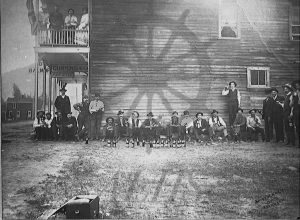 : 2014.003.1641
: B36-9
:
: 1900-- - 1910--
: 1900s, Atkinson; Jack, Balmoral Hotel, Callaghan; James 'Jim', Cummerford; Jim, Cummins & Co. (Ferguson), Cummins; Alex, Cummins; Bertha, Daney; Seldon 'Andy' Sr., Garrett; Ernie, hotel, Howard; Bill, MacLaren; George, Roberts; Chiv, Snell; Bill, Stewart; Ed, store, Thomas; Bill, tug-of-war, and Yuill; George
: Ferguson
:
1 b/w negative (35 mm)
:
Group portrait of tug-of-war participants, Cummins store/Hotel Balmoral, Ferguson, early 20th century. Match was miners versus townspeople. Prize was a barrel of beer won by townspeople. BALCONY (l-r): ?, ?, Godsoe, Mrs. Cummins. GROUND: Jack Atkinson, Alec Cummins, Bill Howard, ? (standing), Bill Snell, ?, ?, George Yuill, Sid Beckett, ?, ?, Jim Callaghan, ?, ?, Chiv Roberts, Jim Cummerford, Mr. Daney, George MacLaren, Ernie Garrett, ?, Billy Thomas, Ed Stewart. Small window at right was added to building to provide light for the telephone.
Purchase Print