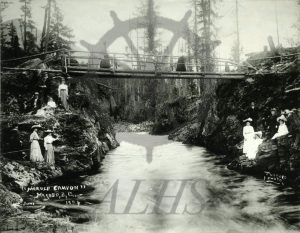 : 2014.003.1592
: B34-1
:
: 1906-06-
: 1900s, Abriel; Bessie, bridge, Canyon Bridge, Canyon Road, Edwards; Lewis J., Gayford; Ellen (McDougald), Kuskanax Creek, Nakusp Canyon, Scott; Elizabeth, and Scott; Walter
: Nakusp
:
1 b/w negative (35 mm)
:
Group posing at Nakusp Canyon, Kuskanax Creek, north side of Nakusp, June 1906. Original Canyon Bridge at top. Walter Scott and Elizabeth Scott at top left directly below bridge footing. Lewis Edwards seated with dog beneath Walter Scott. Ellen Gayford (Ellen McDougald) second from right on right side of canyon. Photo by Eugene Tucker.
Purchase Print