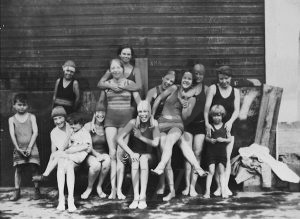 : 2014.003.156
: A8-32
:
: 1930-- - 1939--
: 1930s, Aalten; Edythe (Hiltz), boathouse, Cusick; Louise, Evans; Vicki, Gigot; Eunice (Carruthers; Short), Government wharf (Nakusp), Harris; Molly (Islip), Islip; Nancy, Jestley; Margaret, Rawlings; Olive, Reynolds; Audrey, Smith; Ken, Sundstrom; Annie (Millar), swimming, Upper Arrow Lake, and Walker; Betty (Sundstrom)
: Nakusp
:
1 b/w negative (35 mm)
:
Large group of bathers at boathouse on government wharf at Nakusp, Upper Arrow Lake, 1930s. TOP (l-r): ?, Vicki Evans, Betty Sundstrom (front), Olive Rawlings, Audrey Reynolds, Louise Cusick, Edythe Hiltz. BOT: Ken Smith, Nancy Islip, ?, Molly Islip, Eunice Carruthers, Annie Sundstrom.
Purchase Print