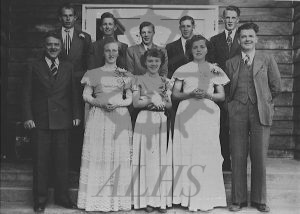 : 2014.003.1538
: B31-9
:
: --
: 1950s, 98 6th Avenue NW, Bolstad; Hugh, Delveten; Lorraine (Henke), Drummond; Ken, Green; Clifford, high school graduation, LaRue; Mel, Logan; Jim, Nakusp High School, Oxenham; Bernard, Oxenham; Joy, Pickard; Beatrice (Brotherton) 'Bea', school, and Stanley; Alan
: Nakusp
:
1 b/w negative (35 mm)
:
Graduation class portrait at Nakusp High School entrance, 1951. TOP(l-r): Cliff Green, Bernard Oxenham, Alan Stanley, Ken Drummond, Mel LaRue. BOT: Hugh Bolstad (teacher), Joy Oxenham, Beatrice Brotherton, Lorraine Henke, Jim Logan of Arrow Park (teacher).
Purchase Print