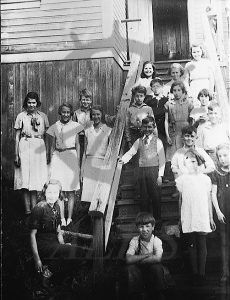 : 2014.003.1405
: B24-16/B25-12
:
: 1937-05-05
: 1930s, Arrowhead School, Bysouth; Edith, Bysouth; Norm, Campeau; Margaret, Cowan; Dorothy 'Dorie' (Evans), Crawford; Jim, Evans; Harold, Giroux; Joan, Hampton; Margaret (Crawford), Kirk; Jim, Kirk; Nellie, Manning; Don, Manning; Elsie, Manning; Robert Jr., school, Smith; Eileen 'Sparky' (Evans), Wasylik; Ylik 'Mike', White; Stella (Wasylik), and Yount; Molly Joan
:
2 b/w negative (35 mm)
:
Class portrait on stairs, Arrowhead School, 5 May 1937. At left of stairs (L-R): ? Bysouth, Margaret Crawford, Jim Kirk, Edith Bysouth. Stella Wasylik below them. On steps: TOP: Joan Giroux, Nellie Kirk, Elsie Manning. 2ND: Robert Manning, Mike Wasylik, Eileen Evans (Sparky Evans), Dorie Evans. 3RD: Jim Crawford, Harold Evans, Norm Bysouth. BOT: Don Manning, Margaret Campeau, Molly Joan Yount.
Purchase Print