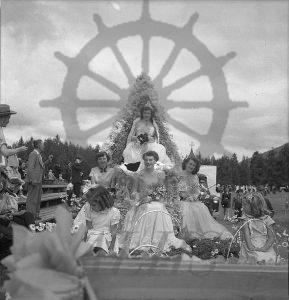 : 2014.003.1322
: B20-15/J109-2
:
: 1952-07-01
: Estate of Ichiro Shiino and Milton Parent
: 1950s, Canada Day, Dalzell; Lorraine (Wensley), Marcolli; Betty, Milner; Ellinore (Nixon), Nakusp Diamond Jubilee, Nakusp Recreation Park, parade, Queen of the Arrow Lakes, Rorick; Linda, Simard; June (Gardner), and Woldum; Doreen
: Nakusp
:
1 b/w negative (35 mm), 1 b/w negative (60 mm)
:
Queen of the Arrow Lakes royalty sitting on float, 1952 July 1st parade, Nakusp. TOP: Lorraine Wensley (1951 queen). BOT(l-r): June Gardner (1952 queen), Doreen Woldum, Ellinore Nixon. Children at front of float: Betty Marcolli, Linda Rorick.
Purchase Print