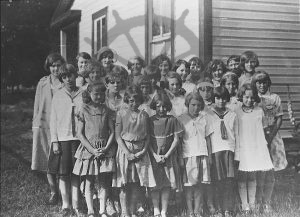 : 2014.003.1244
: B16-17
:
: 1931-- - 1932--
: 1930s, Allan; Betty, Askew; Gwen (Howarth), Bailey; Sybil, Bowes; Annie, Bradbury; Nellie (Humphris), Canadian Girls In Training, Chadwick; Elsa, Chadwick; Olive, Dawson; Lily (Horrey), Grigg; Emily (Chandler), Henke; Marion (Baird), Henke; Marjorie (Bennett), Herridge; Eileen, Horrey; Edith 'Edie', Horsley; Anita, Johnson; Doris (Harvey), MacKenzie; Martha (Oude Steenhoff), Manning; Diana (Herridge), Oxenham; Mrs., Picard; Florence (Harvey), Pound: Mary, Pound; Eileen, Pound; Margaret, Sutherland; Nettie, Truss; Mary (Rushton; Argyle), Williamson; Margaret (Allan), and Witt; Auga (Oude Steenhoff)
: Nakusp
:
1 b/w negative (35 mm)
:
Group portrait of Nakusp CGIT (Canadian Girls in Training) members (outdoor), 1931-1932. TOP (l-r): Betty Allan, Mrs. Oxenham, Mrs. Emily Grigg, Margaret Allan, Margaret Pound, Mrs. Mary Pound. 2ND: Annie Bowes, Gwen Howarth, Nellie Humphris, Marjorie Bennett, Anita Horsley, Eileen Pound, ?, Eileen Herridge. 3RD: Elsa Chadwick, Marion Baird, Martha Steenhoff, Doris Harvey (president), Nettie Sutherland, Diana Herridge, Auga Steenhoff. BOT: Mary Rushton, Lily Horrey, Edie Horrey, Olive Chadwick, Sybil Bailey, Florence Picard.
Purchase Print