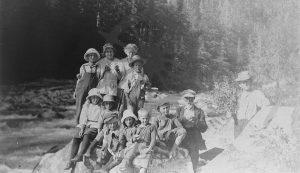 : 2014.003.1173
: B13-9
:
: 1915-- - 1925--
: Grage; Eleanor, Grage; Gertrude, Grage; Gwen, Grage; Hans, Grage; Heinrich Wilhelm, Grage; Herb, Hamling; Alma (Henke), Harvey-Smith; Selma (Henke), Henke; Bill, Henke; Gustav 'Gus', hot springs, Kuskanax Creek, Nakusp Hot Springs, and Tarr; Elsa (Henke; Olson)
: Nakusp
:
1 b/w negative (35 mm)
:
Henke and Grage families posing on rocks above Kuskanax Creek during trip to Nakusp Hot Springs, ca. 1910s-1920s. TOP (l-r): Alma Henke, Selma Henke, Elsa Henke, Bill Henke. BOT: Eleanor Grage, ?, Gwen Grage, Trudy Grage, Hans Grage, Herbert Grage, Heinrich Grage, Gus Henke.
Purchase Print