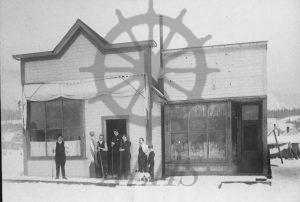 : 2014.003.103
: A6-6
:
: 1911-- - 1919--
: 1910s, 87 4th Avenue SW, barber shop, Leveque; Eugène Camille, Leveque; Eugene Joseph 'Gene', pool/billiards room, Slocan Avenue, store, and The Recess (pool hall/barber shop)
: Nakusp
:
1 b/w negative (35 mm)
:
Group posing outside of The Recess, Eugene Leveque's first pool hall/barber shop, 87 Slocan Avenue South, Nakusp, 1912. Eugene Leveque second from right; son Gene Leveque at right of building. Former store is next door to right; Leveque Sr. lived in this building when he first moved to Nakusp. This was also the Scout hall at one time.
Purchase Print