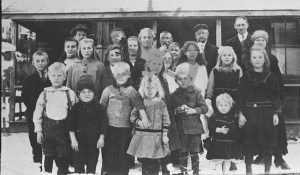 : 2014.003.1021
: B6-4
:
: 1915-- - 1925--
: Grage; Clara, Grage; Eleanor, Grage; Gertrude, Grage; Gladys, Grage; Gwen, Grage; Hans, Grage; Heinrich Wilhelm, Grage; Herb, Haines; Mary (Henke), Hamling; Alma (Henke), Hascarl; Martha (Henke), Henke; Bill, Henke; Clara, Henke; Gustav 'Gus', Henke; Juliana Augusta, Henke; Julius, Henke; Marion (Baird), Henke; Marteen, Henke; Paul R., Jansen; Wilhelmina, Jansen; Wilhelmina (younger), Saurer; F., and Tarr; Elsa (Henke; Olson)
: Brouse
:
1 b/w negative (35 mm)
:
Large group portrait of families of Henke, Jansen, and Grage families at Brouse, ca. 1910s-1920s. TOP(l-r): Gus Henke, Clara Grage, Elsa Henke, Heinrich Wilhelm Grage, Julius Henke, F. Saurer (Sauers?), Wilhelmina Jansen (mother). MID: Clara Henke, Eleanor Grage, Bill Henke, Alma Henke, ?, Juliana Augusta Henke, Wilhelmina Jansen (daughter), Gwen Grage, Martha Henke. Herbert Walter Grage, Hans Grage, Marteen Henke, ?, Gertrude (Trudy) Grage (above), Gladys Grage, Paul Henke, Mary Henke?
Purchase Print