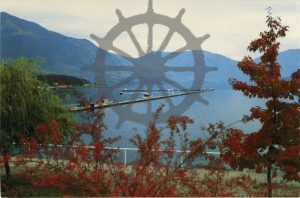 : 2013.048.5
:
:
: 1980-- - 1989--
: Milton Parent and Wayside Press
: 1980s, marina, Nakusp Launch Club, Nakusp Waterfront Walkway, postcard, road construction, and Upper Arrow Lake
: Nakusp
:
2 colour postcards (15.2 cm x 10.2 cm)
:
Postcard of Nakusp Marina as seen from Nakusp Waterfront Walkway along Upper Arrow Lake, 1980s. Inscription on rear: 'Beautiful fall colours frame the Nakusp Marina where boaters prepare for the best fishing of the year. Built by B.C. Hydro, this splendid facility replaces the wharves that were removed during the construction of the reservoir.' Photo by Bin (pen name of Milton Parent). Printed by Wayside Press Ltd., Vernon.
Purchase Print