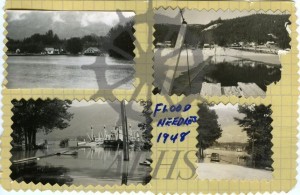 : 2013.045.42
:
:
: 1948--
: Helen Hale (Rollins; Dickinson)
: 1940s, Columbia River flood (1948), Fauquier post office, ferry, Ferry Inn, Ferry Service Station, flood, Lower Arrow Lake, Needles-Fauquier Ferry, and post office/Canada Post
:
1 digital image (2891 x 1881)
:
Page from Janet Plumb's scrapbook with four photographs of 1948 flood at Needles pasted to it. Pictures taken by her mother, Helen Dickinson. Top left: View of Fauquier flooded by Lower Arrow Lake. Top right: View from Needles ferry toward shore at Fauquier. Bottom right: Needles ferry attempting to dock at high water. Bottom right: Car surrounded by flood waters.
Purchase Print