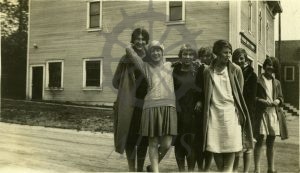 : 2012.031.1
:
:
: 1923--
: 1920s, Campe; Beda, Canadian Girls In Training, French; Phyllis (Rawlings), Hurry; Florence 'Flo' (Dilley), Masonic Building (Nakusp), Patterson; Isabelle, Root; Doris (Cowan), Slocan Avenue, Vaughan; Bessie (McWhirter), and Woodhouse; Hilda (Patterson)
: Nakusp
:
1 b/w photograph (13.0 cm x 8.6 cm)
:
Canadian Girls in Training (CGIT) members posing on Slocan Avenue North at intersection with Broadway Street, 1923. Masonic Building (317 Broadway Street W) in background. L-R: Bessie McWhirter, Beda Campe, Isabelle Patterson, Hilda Patterson, Phyllis Rawlings, Doris Cowan, Flo Dilley.
Purchase Print