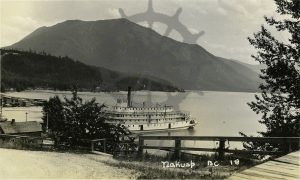 : 2012.014.7
: F15-20A
:
: 1930-- - 1939--
: 1930s, Box Mountain, Nakusp shipyard, postcard, Slocan Avenue, SS Bonnington, sternwheelers, and Upper Arrow Lake
: Nakusp
:
1 b/w postcard (13.7 cm x 8.7 cm), 1 b/w negative (35 mm)
:
Postcard of SS Bonnington docked at Canadian Pacific Railway shipyard, Nakusp, Upper Arrow Lake, 1930s, as seen from foot of Slocan Avenue in front of Leland Hotel. Photo by Hughes Studio, Trail. Inscription on rear: 'Another "Queen Mary." Isn't it pretty? Right where the √ is, is where I love to walk on the track." Postcard via Cy Wales.
Purchase Print