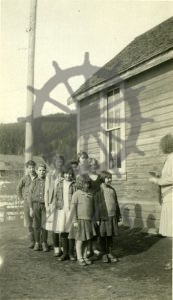 : 2012.012.26
: G34-8
:
: 1931--
: Estate of Margaret Nelson and Walter Nelson
: 1930s, Anderson; Barbara (Masson), Berarducci; Lillian (Campeau), Galena Bay School, Masson; Annie, Masson; Jock, McKay; Bernie, Nelson; Henry 'Harry', Nelson; Margaret, Rendall; Bernice (Simpson), school, Shaw; Josie, and Shaw; Martha
:
1 b/w photograph (7.1 cm x 11.7 cm)
:
Teacher Bernice Rendall (Bernice Simpson, far right) lines up students outside Galena Bay School, 1931. TOP (l-r): Bernie McKay, Henry Nelson, Josie Shaw, Jock Masson, Margaret Nelson. MID: Annie Masson, Martha Shaw. BOT: Barbara Masson, Lillian Campeau.
Purchase Print