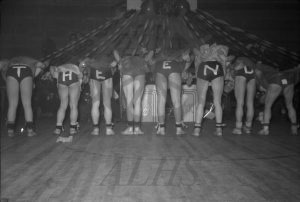 : 2012.003.861
: J100-1
:
: 1950-12-31
: 1950s, Armstrong; Glen, Barrow; Bill, Bedard; George, dance, Desrochers; Ed, Desrochers; Fred, Ferrier; Ted, Gran; Arden, Johnson; Fred, Legion Hall (Nakusp), and New Year's Eve
: Nakusp
:
1 b/w negative (60 mm)
:
Boys posing on stage in shorts with backs to audience, New Year's Eve dance, Nakusp Legion Hall, ca. 1950. 'THE END' is spelled out on the boy's backsides using their shorts. L-R: Fred Johnson, Ed Desrochers, Glenn Armstrong, Bill Barrow, Arden Gran, Ted Ferrier, George Bedard, Fred Desrochers.
Purchase Print