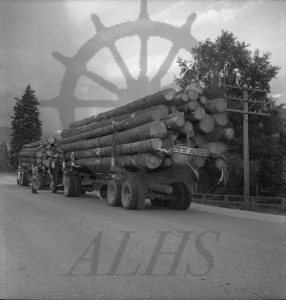 : 2012.003.811
: J94-3
:
: 1950-07-01 - --
: 1950s, Annas; Peggy, Canada Day, Desrochers; Ed, forestry, Goniak; Mike, logging trucks, parade, and Queen of the Arrow Lakes
: Nakusp
:
1 b/w negative (60 mm)
:
Logging truck decorated for Peggy Annas' campaign for Queen of the Arrow Lakes, July 1st parade, Nakusp, 1950. Inscription on back reads 'Property of I. Shiino, Nakusp. Two loads of logs in Dominion Day parade, Nakusp, 1952. Mike Goniak on running board and Eddie Desrochers [Ed Desrochers] talking to him'. Note incorrect date on back (proper date is 1 July 1950).
Purchase Print