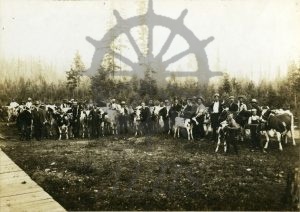 : 2011.023.99
:
:
: 1914--
: 1910s, cattle, Fair Building (Nakusp), Grahame Street, and Rogers; William
: Nakusp
:
1 b/w photograph (15.6 cm x 11.0 cm on 25.2 cm x 20.2 cm matte)
:
Group posing with herd of purebred Ayrshire cattle outside Fair Building, Grahame Street, Nakusp, 1914. Inscription on rear: 'To Walt From Will. At the back Front of the Fair Building at Nakusp'. 'Will' may be William Rogers, who is one of the men in the photo. Notes: 'These were the first cattle in Nakusp and came from Montreal by freight train in 1914.' Photo by Ernest W. Bill.
Purchase Print