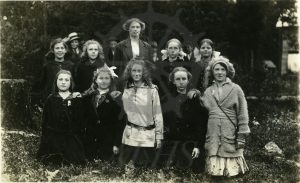 : 2011.023.48
:
:
: 1918-- - 1923--
: 1920s, Allan; Katharine 'Kay' (McDougald), Berard; Isabelle (Patterson), Campbell; Annie, church, Glendinning; Jean, Hamer; Ruhama 'Rhuie'/'Ruhie', McQuair; Maude (Parkinson), Reilly; Gladys Kathleen, Robertson Memorial United Church, Sunday school, Sutherland; Margaret, Warden; Jean, and Woodhouse; Hilda (Patterson)
: Nakusp
:
1 b/w photograph (13.9 cm x 9.0 cm)
:
Rhuie Hamer posing with her United Church Sunday school class, Nakusp, ca. turn of 1920s. TOP (l-r): Maude Parkinson, Jean Glendinning, Rhuie Hamer, Isabelle Patterson, Gladys Reilly. BOT: Annie Campbell, Jean Warden, Katharine McDougald. Hilda Patterson, Margaret Sutherland. Photo via Rhuie Hamer.
Purchase Print