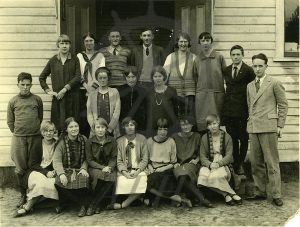 : 2011.004.28
:
:
: 1923-- - 1927--
: 1920s, Brown; Louise (Horsley), Carpenter; Ruth (Horsley), Dalrymple; Nellie (Johnson; Nesbitt), Giraud; Alice, Glenbank School, Gregory; Wes, Grigg; John Jr., Hampton; Muriel (Stanley), Jestley; Lyle, Likus; Angeline 'Jean', Mills; Alice, Neubrand; Lilla, Oxenham; Mildred (LaRue), school, Walton; Betty (White), and White; Walter Robert 'Bob'
: Glenbank
:
1 b/w photograph (21.1. cm x 16.6 cm)
:
Class portrait in front of building, Glenbank School, ca. mid-1920s. TOP(l-r): ? Lidberg, Muriel Stanley, Lyle Jestley, Bob White, Betty White, Wes Gregory, ?. MID: John Grigg, Ruth Horsley, Mildred LaRue, Louise Horsley. BOT: ?, Lilla Neubrand, ?, Jean Likus, ?, Nellie Johnson, Alice Giraud, ?. Student in portrait but position not indicated: Helen Mills.
Purchase Print