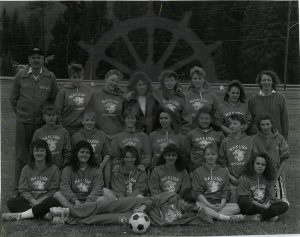 : 2009.004.8
:
:
: 1988--
: 1980s, Ballard; Laura, Canyon Road, Fahlman; Sheila, Finnigan; Marnie, Friis; Laurie, Friis; Tricia, Granewall; Charlie, Hopp; Stacey, Jordan; Jodie, Kinsey; Tricia, Krajewski; Sandra, LaFrance; Kim, McKillop; Debra, McKillop; Ken, Nakusp Secondary School, school, Settle; Mandy, soccer, Soroka; Tara, Stroshein; Charissa, Troute; Tara, Walker; Elena, and Yamada; Kiyoma
: Nakusp
:
1 b/w photograph (25.3 cm x 20.2 cm)
:
Nakusp Secondary School girls' soccer team, circa 1988. Team portrait on lower field with Canyon Road in background. TOP(l-r):Charlie Granewall (coach), Charissa Stroshein, Laura Ballard, Elena Walker, Tricia Kinsey, Thea ?, Marnie Finnigan, ?. MID:Stacey Hopp, Naomi Smith, Jodie Jordan, Debra McKillop, Kiyoma Yamada, Tara Troute, Kim LaFrance. BOT:Sheila Fahlman, Tara Soroka, Mandy Settle, Laurie Friis, Ken McKillop, Sandra Krajewski. Lying on ground: Tricia Friis.
Purchase Print