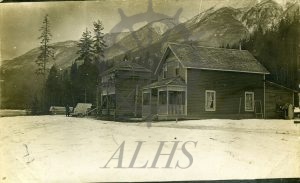 : 2009.004.8.1
: D31-8
:
: 1909--
: 1900s, Arrow Park Hotel, building construction, Hemingway General Store, hotel, and store
:
1 b/w postcard (13.7 cm x 8.6 cm), 1 b/w negative (35 mm)
:
Postcard showing Arthur Hemingway's store (left) under construction next to Arrow Park Hotel (right), Arrow Park, ca. 1909. Note proper spelling of 'Hemingway'. Inscription on rear from A.C. Raisbeck: 'Arrow Park Hotel & Hemmingway's[sic] store being built. My mother ran the hotel which belonged to the Canadian Dominion Development Co. A Liverpool groupe[sic] of land developers'.
Purchase Print