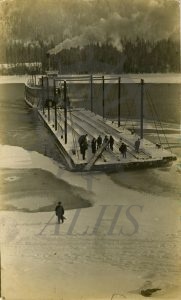 : 2009.004.66
: D31-5
:
: 1908-- - 1910--
: 1900s, barge, Canadian Pacific Railway, Columbia River, Hemingway; Arthur, icebreaking, postcard, SS Minto, sternwheelers, The Narrows, and Upper Arrow Lake
:
1 b/w postcard (8.8 cm x 13.8 cm), 1 b/w negative (35 mm)
:
Postcard showing SS Minto docked at Arrow Park wharf, Columbia River Narrows, ca. 1908-1910. Arthur Hemingway seen at bottom taking mail down to the boat car barge used by the Minto for icebreaking. Inscription on rear: 'Mr Hemingway taking down main to the Minto. - Note the car barge used as an icebreaker.' Photo via A.C. Raisbeck.
Purchase Print