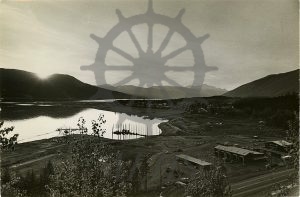 : 2009.004.162
:
:
: 1968--
: 1960s, Arrow Lakes flooding (Columbia River Treaty), Celgar, Highway 6, Rothwell Bay, Rothwell Bay wharves (original), Rothwell Point, Spicer Farm, and Upper Arrow Lake
: Nakusp
:
1 b/w photograph (15.2 cm x 10.1 cm)
:
View from Nakusp & Slocan Railway lookout overlooking Rothwell Point looking toward Nakusp and Upper Arrow Lake, 1968. Celgar offices at bottom right. Land cleared in advance of flooding from Hugh Keenleyside Dam including original Highway 6 and Spicer Farm visible at centre. Village of Nakusp with new wharf at top.
Purchase Print