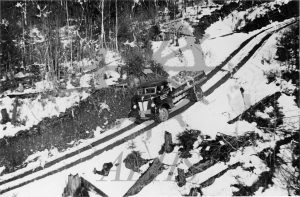 : 2009.004.153
:
:
: 1941-- - 1950--
: 1940s, automobiles, Dewis; Bob, dumptruck, mining, and Standard Mine
:
1 photograph : b/w ; 15.1 x 10.3 cm
:
Side-hill gouger used to haul ore at Standard Mine, Silverton. Notes from accompanying article: "Pictured is a 1941 Federal C.O.E. All Wheel drive. It was purchased by Bob Dewis 50 years ago to haul ore during the winter months from the famous Standard Mine at Silverton. In prior years operating with two wheel drive trucks in the winter was on a "hit & miss" basis and mines cannot operate as such. It was a success although there were a few thrills attached when the weather didn't co-operate and she wuld[sic] lock up and tobogan[sic]. Ask anyone who rode or drove the Federal, there are still some around."
Purchase Print