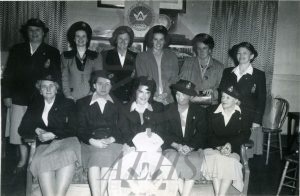 : 2009.004.14
:
:
: 1945-- - 1955--
: Baird; Mary, Cargill; Lil, Chadwick; Alice, Legion Hall (Nakusp), McCusker; Gladys 'Gay' (Barrow), McMullen; Betty, Munn; Hope (Taylor), Royal Canadian Legion Branch 20, and Steenhoff; Hilda (Bakker)
: Nakusp
:
1 b/w photograph (9.2 cm x 6.5 cm)
:
Group photo of members of Canadian Legion British Empire Service League (now called Royal Canadian Legion Ladies' Auxiliary), mid-20th century. TOP (l-r): Alice Chadwick, Lil Cargill, Hazel Rorick, Gay Barrow, Mary Baird, Hilda Steenhoff. BOT: Hempseed, Kershaw?, Betty McMullen, ?, Hope Munn.
Purchase Print