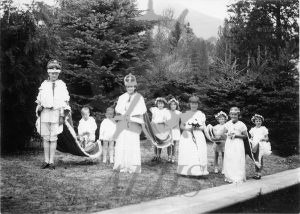 : 2009.004.138
:
:
: 1937-05-12 - --
: 1930s, Burgoyne; Irene (Buerge), Dalzell; Sydney (Leary), Desrochers; Doreen (Parent), Dolman; Sonja, George VI, George VI coronation (1937), Henke; Betty (Miller), Horrey; Stella, Oxenham; Bernard, Oxenham; Joy, Stanley; Alan, and Truss; Mary (Rushton; Argyle)
: Nakusp
:
1 photograph : b/w ; 17.7 x 12.6 cm
:
Nakusp children performing mock ceremony celebrating coronation of George VI, 12 May 1937. L-R: Mary Rushton, Alan Stanley, Bernard Oxenham, Irene Buerge, Stella Horrey, Sydney Leary, Betty Miller, Joy Oxenham, Sonja Dolman, Doreen Parent. Photo via Arrow Lakes News.
Purchase Print