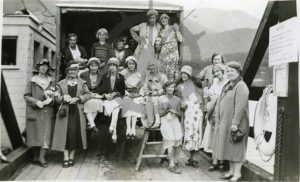 : 2009.004.113
: F15-24A
:
: 1940-- - 1949--
: Denis Stanley and Ruby Keffer
: 1940s, Ashdown; Margaret, Burton Women's Institute, Cookman; Bessie Jane, ferry, Fuller; Olive, Grimmett; Lily (Marshall; Robertson), Jenkins; Meagan, Johnson; Shirley, Keffer; May, Keffer; Ruby, Llewellyn; Catherine, Moore Bethune; Elizabeth, moving van/delivery van, Needles-Fauquier Ferry, Sundstrom; Annie (Millar), Walker; Betty (Sundstrom), Walton; Dolly (Moseley), women's institute, and Yerek; Sabina
: Fauquier
:
1 b/w photograph (13.4 cm x 8.9 cm), 1 b/w negative (35 mm)
:
Burton Women's Institute group posing on back of Millar's truck on Needles ferry en route to Edgewood, ca. early 1930s. TOP (l-r): Elizabeth Moore Bethune, Betty Sundstrom, Shirley Johnson, Catherine Llewellyn, Bessie Cookman, May Keffer. BOT: Sutherland, Olive Fuller, Annie Sundstrom, Ruby Keffer, Dolly Walton, Margaret Ashdown, Sabina Yerek, Meagan Jenkins, Lily Robertson, Chiles, Williams.
Purchase Print