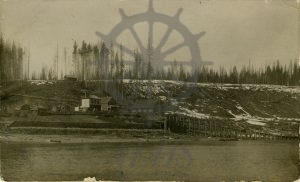 : 2009.004.11.1
: D31-4
:
: 1909-- - 1910--
: 1900s, Arrow Park Community Hall, Arrow Park Hotel, Arrow Park School, Arrow Park wharf, Columbia River, Hemingway General Store, hotel, postcard, school, store, and The Narrows
:
1 b/w postcard (14.0 cm x 8.5 cm), 1 b/w negative (35 mm)
:
Postcard showing waterfront at Arrow Park, Columbia River Narrows, 1909-1910. Arrow Park school house seen on hill at top left. Teamster Jack Patterson's shack at far left. Arthur Hemingway's store, Arrow Park Hotel, and community hall at centre. Wharf at right. Inscription on rear by Raisbeck: After a warf[sic] was built about 1909 or 10. Hemingway store, Hotel, Community Hall and School. [illegible] teacher. School was always let out to see the boat come in. One day someone came in with some damp blasting powder to dry out on the stove we were all out to see the boat come in the powder caught fire only damage was from smoke'. Photo via A.C. Raisbeck.
Purchase Print