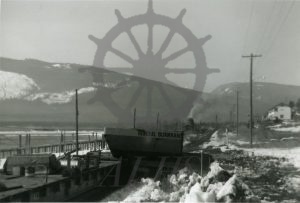 : 2008.012.6
:
:
: 1955-- - 1959--
: 1950s, Beau Vista Motel, beehive burner, Big Bend/Celgar mill (Nakusp), boat construction, Canadian Pacific Railway, Celgar (Columbia Cellulose/Canadian Cellulose), forestry, General Burnham (barge), Government wharf (Nakusp), hotel, Nakusp & Slocan Railway, Nakusp shipyard, sawmill, and Upper Arrow Lake
: Nakusp
:
1 b/w photograph (12.7 cm x 9.0 cm)
:
Bow of Celgar's barge General Burnham sitting on Canadian Pacific (Nakusp & Slocan) Railway car for assembly, Nakusp shipyard, Upper Arrow Lake, ca. 1950s. Beau Vista Motel at top right. Beehive burner of Celgar's Big Bend mill in background.
Purchase Print