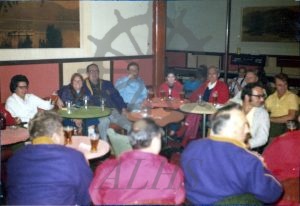 : 2006.011.32.5.4
:
:
: 1972-09- - 1973--
: 1970s, Barrow; Vicky (Obayashi), Desrochers; Frances (Urban), Gran; Judy (Hascarl), Hatch; Stan, hotel, Johnson; Fred, K-40 Club of Nakusp, K-ette Club of Nakusp, Kinette Club of Nakusp, Kinsmen Club of Nakusp, Leland Hotel, Operation Hustle, pub/lounge, Robison; Bill, and Wethal; Virgil
: Nakusp
:
1 colour photograph (11.6 cm x 8.0 cm)
:
Members of Nakusp Kin clubs (Kinsmen, Kinettes, K-40, K-ettes), Operation Hustle afterparty, Leland Hotel lounge, Nakusp, ca. 1972-1973. L-R: Frances Desrochers, Judy Gran, Bill Robison, ?, Vicky Barrow, Stan Hatch, Fred Johnson (obscured), Virgil Wethal. Photo found in Scrap Book of Nakusp K-ettes 1972, page 5.
Purchase Print