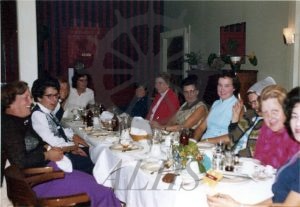 : 2006.011.32.4.1
:
:
: 1972-09- - 1973--
: Doreen Desrochers and K-ette Club of Nakusp
: 1970s, Barrow; Vicky (Obayashi), Cann; Liz, Cusick; Marion (Blair), Desrochers; Frances (Urban), Dinning; Dawna, hotel, Johnson; Rosemarie (Masson), K-ette Club of Nakusp, Leland Hotel, Mair; Donna (McQuair), restaurant, and Shaw; Margaret (Olson)
: Nakusp
:
1 colour photograph (12.5 cm x 8.8 cm)
:
K-ette Club of Nakusp meeting, Leland Hotel dining room, Nakusp, 1972-1973. L-R: Liz Cann, Frances Desrochers, Judy Gran, Margaret Shaw, Rosemarie Johnson, Donna Mair, Dawna Dinning, ?, ?, Marion Cusick, Vicky Barrow (president). Photo by Doreen Desrochers. Photo found in Scrap Book of Nakusp K-ettes 1972, page 4.
Purchase Print