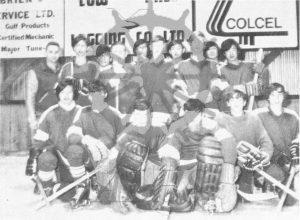 : 2006.011.31.33.3
:
:
: 1971-01- - 1971-03-
: Nakusp & District Sports Centre
: 1970s, Barrow; Grant, Bells; Wilf, Borle; Brian, deGans; Rick, Hankins; Jim, hockey, Jones; Warren, Mueller; Herb, Nakusp & District Sports Centre (1970-78), Nakusp Minor Hockey Association, Nishida; Ken, Obayashi; Wayne, Posnick; Gary, Posnick; Gordon, Roberts; Brian, Robson; Ray, Yano; Larry, and Yoshida; Richard
: Nakusp
:
1 b/w photograph (9.2 cm x 6.4 cm)
:
Nakusp midget hockey teams, Nakusp and District Sports Centre, 200 8th Avenue NW, 1971. TOP (L-R): Wilf Bells (coach), Gary Posnick, Ray Robson, Larry Yano, Brian Roberts, Grant Barrow, Rick deGans, Ken Nishida, Richard Yoshida. BOT: Wayne Obayashi, Herb Mueller, Jim Hankins, Brian Borle, Warren Jones, Gordon Posnick. MISSING: Tom Zeleznik, Colin McQuair, Wilbur Berry, Mike Nishimura, Art Lloyd, Frank Bone, Denis Desrochers, Cliff Trennaman, Howard Matthews, Dana Matthews, Darcy Jones, Brett Gordon, Wayne Langbell, Bill Brown, Dan Hascarl, Paul Coltura. Image taken from page 33 of Nakusp and District Sports Centre opening day programme, released 1 April 1971.
Purchase Print