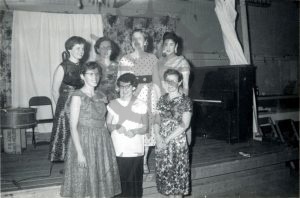 : 2006.011.30.5.1
:
:
: --
: 1960s, Barrow; Vicky (Obayashi), Cusick; Marion (Blair), Desrochers; Doreen (Parent), Desrochers; Frances (Urban), Johnson; Rosemarie (Masson), Kinette Club of Nakusp, Legion Hall (Nakusp), Maja; Helen, and Shaw; Margaret (Olson)
: Nakusp
:
1 b/w photograph (12.8 cm x 8.7 cm)
:
Kinette Club of Nakusp executive at charter meeting, 30 January 1960. TOP(l-r): Rosemarie Johnson (Secretary), Doreen Desrochers (Bulletin Editor), Marion Cusick (Vice President), Vicki Barrow (Social Convenor). BOT(l-r): Margaret Shaw (President), Frances Desrochers (Treasurer), Helen Maja (Registrar). Photo found on page 5 of Kinette Club of Nakusp scrapbook Kinship.
Purchase Print