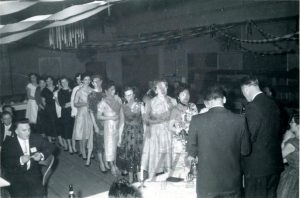 : 2006.011.30.3.2
:
:
: 1960-01-30 - --
: 1960s, Barrow; Vicky (Obayashi), Cann; Liz, Coates; Doris, Cusick; Marion (Blair), Dameji; Elon, Desrochers; Doreen (Parent), Desrochers; Frances (Urban), Hakeman; Lou, Kinette Club of Nakusp, Legion Hall (Nakusp), Mair; Donna (McQuair), Maja; Helen, Misutka; Marilyn (Skalk), Obayashi; Wendy, Yano; Nobuko 'Nobby', and Zanier; Grace (Coates)
: Nakusp
:
1 b/w photograph (12.8 cm x 8.7 cm)
:
Kinette Club of Nakusp members receiving pins from Kinsmen Deputy Governor Elon Dameij, installation/charter meeting of new Kinette Club of Nakusp, Nakusp Legion Hall, 30 January 1960. Photo found on page 3 of Kinette Club of Nakusp scrapbook Kinship. Members, R-L: Wendy Obayashi, Marion Cusick, Doreen Desrochers, Vicky Barrow, Lou Hakeman, Donna Mair, Marilyn Misutka, Grace Zanier, Doris Coates, Liz Cann, Nobby Yano, Frances Desrochers.
Purchase Print