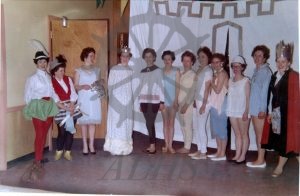 : 2006.011.30.21.1
:
:
: 1961-- - --
: 1960s, Barrow; Vicky (Obayashi), Cusick; Marion (Blair), Davies; Stella, Desrochers; Doreen (Parent), Gran; Judy (Hascarl), Johnson; Rosemarie (Masson), Kinette Club of Nakusp, Leitch; Helen (Hayes; Cameron), Maja; Helen, Misutka; Marilyn (Skalk), Nelson; Tanys (Thomson; Berard), play/theatre, and Shaw; Margaret (Olson)
: Nakusp
:
1 colour photograph (17.0 cm x 11.9 cm)
:
Kinette Club of Nakusp members in costume, Nakusp, 1961. L-R: Vicky Barrow, Rosemarie Johnson, Judy Gran, Marilyn Misutka, Helen Leitch, Helen Maja, Stella Davies, Tanys Berard, Doreen Desrochers, Margaret Shaw, Marion Cusick. Photo found on page 21 of Kinette Club of Nakusp scrapbook Kinship.
Purchase Print