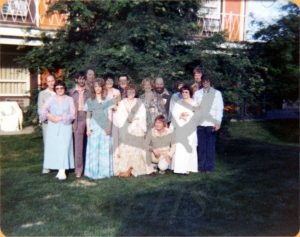 : 2006.011.30.186.2
:
:
: 1977--
: 1970s, Andrews; Gwen, Andrews; Ralph, Coult; Len, Coult; Linda, Gee; Darlene, Gee; Dave, Hurry; Evelyn 'Ev', Hurry; Neil, Kin conventions (Kinsmen), Kinette Club of Nakusp, Kinsey; Germaine, Kinsey; Jack, Kinsmen Club of Nakusp, McAndrew; Don, Miskulin; Anne, Miskulin; Clayton, Pender; Ken, and Pender; Shirley
:
1 colour photograph (8.8 cm x 11.0 cm)
:
Nakusp Kinsmen Club & Kinette Club members attending Kinsmen District Five convention, 1977. TOP (l-r): Ralph Andrews, Jack Kinsey, Ev Hurry, Darlene Gee, Neil Hurry, Len Coult, Dave Gee, Anne Miskulin, Ken Pender. BOT: Gwen Andrews, Germaine Kinsey, Linda Coult, Don McAndrew, Shirley Pender, Clayton Miskulin. Photo found on page 186 of Kinette Club of Nakusp scrapbook Kinship.
Purchase Print