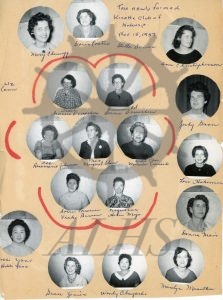 : 2006.011.30.1
:
:
: 1959-11-15
: 1950s, Barrow; Vicky (Obayashi), Cann; Liz, Chernoff; Mary, Christopherson; Ann, Coates; Doris, Cusick; Marion (Blair), Desrochers; Doreen (Parent), Desrochers; Frances (Urban), Gran; Judy (Hascarl), Hakeman; Lou, Johnson; Rosemarie (Masson), Kinette Club of Nakusp, Mair; Donna (McQuair), Maja; Helen, Misutka; Marilyn (Skalk), Obayashi; Wendy, Shaw; Margaret (Olson), Yano; Nobuko 'Nobby', and Zanier; Grace (Coates)
: Nakusp
:
1 b/w photographic collage on newsprint (21.7 cm x 28.8 cm)
:
Photographic collage showing charter members of Kinette Club of Nakusp, 15 November 1959. TOP (l-r): Mary Chernoff, Doris Coates, Ann Christopherson. 2ND TOP: Liz Cann (no picture), Frances Desrochers (treasurer), Doreen Desrochers (Bulletin editor), Judy Gran. MID: Rosemarie Johnson (secretary), Margaret Shaw (President), Marion Cusick (vice-preisdent), Lou Hakeman. 2ND BOT: Vicky Barrow (social convenor), Helen Maja (registrar), Donna Mair. BOT: Nobby Yano, Grace Zanier, Wendy Obayashi, Marilyn Misutka. Collage is page 1 of Kinette Club of Nakusp scrapbook Kinship.
Purchase Print