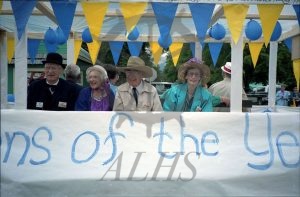 : 2006.011.29.3.15
: Q34-22
:
: 1992-07-01
: 1990s, 1992 Nakusp centennial, 420 Broadway Street W, Broadway Street, Canada Day, Caribou Cobbler, Citizen of the Year (Nakusp), Gardner; Hubert Gifford 'Bert', Jakobsson; Christina 'Chris' (Mitchell), Mayson; Harry, parade, Stanley; Marjorie 'Madge' (White), and store
: Nakusp
:
1 colour negative (35 mm)
:
Float carrying previous Nakusp Citizen of the Year winners, July 1st parade, Broadway Street at 5th Avenue SW, Nakusp, 1 July 1992. L-R: Harry Mayson, Madge Stanley, Bert Gardner, Chris Jakobsson. Caribou Cobbler (420 Broadway Street West) in background.
Purchase Print