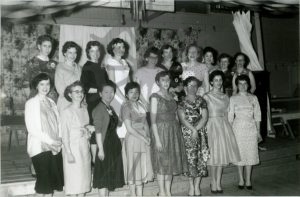 : 2006.011.29.2.1
:
:
: 1960-01-30 - --
: 1960s, Barrow; Vicky (Obayashi), Cann; Liz, Chernoff; Mary, Coates; Doris, Cusick; Marion (Blair), Davies; Stella, Desrochers; Doreen (Parent), Desrochers; Frances (Urban), Gran; Judy (Hascarl), Hakeman; Lou, Johnson; Rosemarie (Masson), Kinette Club of Nakusp, Legion Hall (Nakusp), Mair; Donna (McQuair), Maja; Helen, Misutka; Marilyn (Skalk), Obayashi; Wendy, Shaw; Margaret (Olson), Yano; Nobuko 'Nobby', and Zanier; Grace (Coates)
: Nakusp
:
1 b/w photograph (13.4 cm x 8.8 cm)
:
Group portrait, Kinette Club of Nakusp members at charter meeting, Nakusp Legion Hall, 30 January 1960. TOP(l-r): Donna Mair, Lou Hakeman, Grace Zanier, Stella Davies, Frances Desrochers, Liz Cann, Marion Cusick, Vicki Barrow, Rosemarie Johnson, Doreen Desrochers. BOT: Marilyn Misutka, Doris Coates, Nobby Yano, Wendy Obayashi, Margaret Shaw, Helen Maja, Mary Chernoff, Judy Gran.
Purchase Print