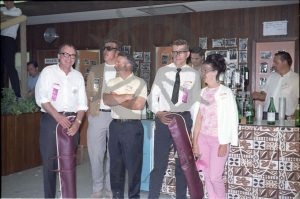 : 2006.011.19.5.4
: Q20-4
:
: --
: 1960s, Brodoway; Andy, Desrochers; Ed, Harding; Earnie, Harding; Gayle, Kin conventions (Kinsmen), Kinette Club of Nakusp, Kinsmen Club of Nakusp, and Robertson; Keith
:
1 colour negative (35 mm), 1 colour photograph (9.1 cm x 6.6 cm)
:
Nakusp Kinsmen Club/Kinette Club members at Kinsmen District 5 convention (Kinsmen Beachcomber Convention '69), Penticton, 22-25 May 1969. L-R: Keith Robertson, Andy Brodoway, Ed Desrochers, Earnie Harding, Gayle Harding. Photo appears on page 108 of Kinette Club of Nakusp scrapbook Kinship.
Purchase Print