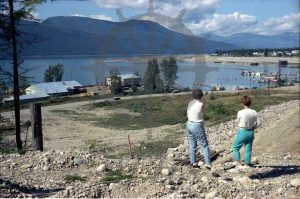 : 2006.011.19.4.7
: Q19-7
:
: 1968-09-07
: 1960s, Arrow Lakes flooding (Columbia River Treaty), Ball; Colleen, building relocation, Celgar, Desrochers; Doreen (Parent), forestry, Highway 6, Rothwell Bay, Rothwell Bay wharves (original), Rothwell Point, Upper Arrow Lake, and waterfront erosion barrier (Nakusp)
: Nakusp
:
1 colour negative (35 mm)
:
Colleen Ball (left) and Doreen Desrochers (right) look across Highway 6 as they watch Celgar office being lifted off foundation in preparation to be moved across highway in advance of rising waters caused by Hugh Keenleyside Dam, Rothwell Point, Upper Arrow Lake, Nakusp, 7 September 1968. Rothwell Bay and wharves at right. Village of Nakusp and new concrete erosion barrier in background at top right.
Purchase Print