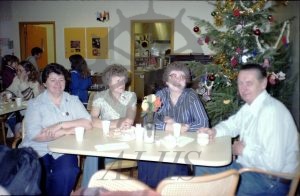 : 2006.011.19.22.14
: Q32-14A
:
: 1982-12-11
: 1980s, bake sale, Canning; Jean, craft fair, Halcyon Home/Halcyon House, Pedersen; Judy, Tiechreb; Norman, and Tiechreb; Sheila
: Nakusp
:
1 colour negative (35 mm)
:
Staff and board members, Halcyon Home Tea & Bazaar, Halcyon Home intermediate care facility, 83 8th Avenue NW, Nakusp, 11 December 1982. L-R: Judy Pedersen, Jean Canning, Sheila Tiechreb, Norman Tiechreb. Print found on plate 59 of In Praise of Older People: Building the Halcyon Home Facility scrapbook (accession number 2015.003.3).
Purchase Print