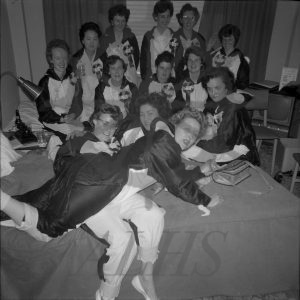 : 2006.011.19.2.6
: Q17-6
:
: 1962-05- - --
: Doreen Desrochers and Kinette Club of Nakusp
: 1960s, Barrow; Vicky (Obayashi), Coates; Doris, Cusick; Marion (Blair), Desrochers; Doreen (Parent), Desrochers; Frances (Urban), Falkiner; Joy, Gran; Judy (Hascarl), hotel, Johnson; Rosemarie (Masson), Kin conventions (Kinsmen), Kinette Club of Nakusp, Leitch; Helen (Hayes; Cameron), and Yano; Nobuko 'Nobby'
:
1 b/w negative (45 mm)
:
Kinette Club of Nakusp members in penguin costumes in hotel room, Kinsmen Kinvention, Penticton, spring 1962. TOP (l-r): Helen Leitch, Frances Desrochers, Doreen Desrochers. MID: Joy Falkiner, Nobby Yano, ?, Judy Gran, Rosemarie Johnson. BOT: Doris Coates, Vicky Barrow, Marion Cusick, ?.
Purchase Print