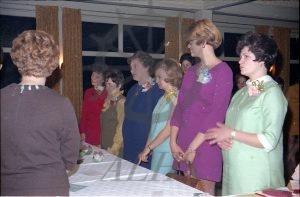 : 2006.011.19.11.12
: Q25-17A
:
: 1970-01-
: Doreen Desrochers and Kinette Club of Nakusp
: 1970s, Bird; Yvette (Houdayer; Woldum), Coltura; Floria, Desrochers; Doreen (Parent), Gardner; Nola (Bjarnason), hotel, Kinette Club of Nakusp, Leland Hotel, restaurant, Sannes; Georgie, and Swan; Vickie
: Nakusp
:
1 colour negative (35 mm), 1 colour photograph (12.7 cm x 8.8 cm)
:
New Kinette Club of Nakusp members being initiated by Doreen Desrochers (left), Leland Hotel dining room, Nakusp, January 1970. L-R: Linda Hatch, Yvette Woldum, Georgie Sannes, Vickie Swan, Nola Gardner, Floria Coltura. Image appears on page 114 of Kinette Club of Nakusp scrapbook Kinship.
Purchase Print