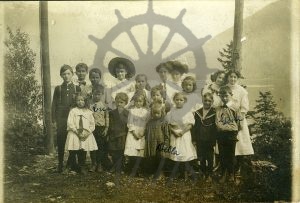 : 2005.026.56
:
:
: 1909--
: 1900s, Allard; Bill, Allard; Jim, Comaplix School, Deslauriers; Veronica, Henderson; Ernie, Leveque; Eugene Joseph 'Gene', Leveque; Hercule 'Eric', McCurrie; Minnie, Northeast (Beaton) Arm, Olson; Blenda, Parent; Della (Leveque), Stanhope; Laura, Sutherland; Grace, Sutherland; Nina, Sutherland; Percy, Sutherland; Vera, and Upper Arrow Lake
: Comaplix
:
1 b/w postcard (13.9 cm x 8.8 cm)
:
Postcard showing class portrait, Comaplix School, 1909, taken outdoors with Upper Arrow Lake in background. TOP(l-r): Percy Sutherland, Bill Allard, Jim Allard, Vera Sutherland, Laura Stanhope, ?, Winnie McCurrie (teacher). MID (4 girls): Grace Sutherland, ?, ?, Nina Sutherland. BOT: Veronica Deslauriers, Eric Leveque, ?, Deslauriers, Della Leveque, Blenda Olson, Ernie Henderson, Gene Leveque.
Purchase Print