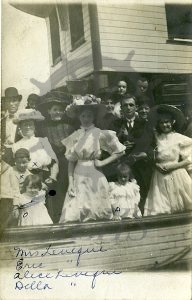 : 2005.026.47
: E38-24A
:
: 1906-- - 1910--
: 1900s, Geo. F. Piper (tug), Leveque; Eric, Leveque; Evelina (Duquette), Mathers; Alice (Leveque; Akerman), Northeast (Beaton) Arm, Parent; Della (Leveque), postcard, tugboats, and Upper Arrow Lake
: Comaplix
:
1 b/w postcard (13.8 cm x 8.8 cm), 1 b/w negative (35 mm)
:
Postcard showing people posing on deck of tug Geo. F. Piper, Comaplix, 1900s-1910s. List of Leveque family members identified on photo but not directly matched with people in image: Mrs. Evelina Leveque, Eric Leveque, Alice Leveque, Della Leveque.
Purchase Print