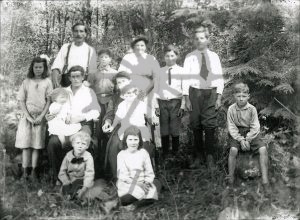 : 2004.031.13
:
:
: 1925-07-11
: John Nelson and Peggy Masson
: 1920s, Anderson; Barbara (Masson), Masson; Alex 'Shorty', Masson; Annie, Masson; Chrissie, Masson; Jock, Masson; Steve, Nelson; Agnes (Mauchline), Nelson; Henry 'Harry', Nelson; John, Nelson; John W., Nelson; Margaret, and Nelson; Walter Scott
:
1 b/w photograph (11.1 cm x 8.3 cm)
:
Masson and Nelson families, Galena Bay, 11 July 1925. TOP(l-r): John Nelson (elder), Alex Masson, Agnes Nelson, John Nelson (younger), Walter Nelson. MID: Christine Masson, Barbara Masson, Steve Masson, Peggy Masson, Annie Masson, Jock Masson. FRONT: Henry Nelson, Margaret Nelson.
Purchase Print