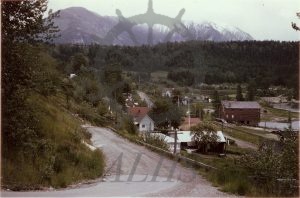 : 2004.026.9
:
:
: 1962--
: 1960s, Bay Street, Bell Pole Co., Canadian Pacific Railway, Canadian Pacific Railway workshop, Nakusp & Slocan Railway, Slocan Avenue, Spicer Farm, Steenhoff house (Bay Street), and Summit Peak
: Nakusp
:
1 colour photograph (12.7 cm x 8.9 cm)
:
View from foot of Slocan Avenue in front of Leland Hotel looking toward east end of Bay Street and Canadian Pacific (Nakusp & Slocan) Railway, Nakusp, ca. 1962. Canadian Pacific Railway shipyard and workshop at right on Upper Arrow Lake shore. Lidberg and Steenhoff houses at centre. Old Bell Pole Co. yard and Spicer Farm seen in background behind workshop. Summit Peak at top.
Purchase Print