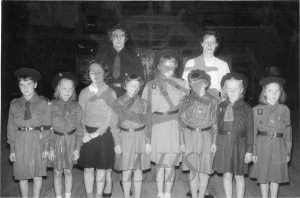 : 2004.026.30
:
:
: 1958-- - 1960--
: 1950s, Budge; Donna, Girl Guides/Brownies, Hopp; Yvonne, Klein; Betty, Nesbitt; Georgina, Olsen; Carole (Hopp), Penner; Penny (Jackson), Slyter; Shirley, and Thrale; Louise (Bateman)
: Edgewood
:
1 b/w photograph (12.3 cm x 8.4 cm)
:
Group portrait of 1st Inonoaklin Girl Guides, Brownies, and their troop leaders, Edgewood, ca. very late 1950s-turn of 1960s. TOP (l-r): Betty Klein, ? Craig. BOT: Georgina Nesbitt, ? Craig, Donna Budge, Yvonne Hopp, Penny Jackson, Carole Hopp, Louise Bateman, Shirley Slyter. Photo via estate of Adeline Jackson.
Purchase Print